Create a gallery wall using artworks printed at ARTPLUS
Gallery walls are timeless -it simply never goes out of style. Creating your own gallery wall might feel a little overwhelming but with our easy to follow guide you're sure to enjoy the process of creating a wall that tells your story. At ARTPLUS we offer very affordable art printing and framing services- from paintings to family photos printed on canvas or fine art paper, framed beautifully using custom sizes and shapes you require.
Here at ARTPLUS we've got the gallery wall formula pretty much down to a tee. We create gallery walls for clients all the time, projects big and small, including our own homes.
We have put together a few of our favorite gallery wall inspirations which aren't intimidating to pull off and will leave your end result looking highly professional. Gallery walls will always be on-trend – a gallery wall is a great way to fill blank wall space, and to add your own personal touches or brand identity to a space. With ARTPLUS, creating your gallery wall is cost effective and an r easy update that is sure to have a huge impact on your surroundings. If you haven't already been sold on the idea of a gallery wall, it's time to get on board and on trend!
A gallery wall doesn't have to be a picture wall only – you can incorporate everything from mirrors to plants to create interest and character on a wall, combined with stretched canvas prints and framed artworks or printed mirrors – as you'll see from our ideas, the possibilities are endless.
FORGET THE RULES
Rules are non-existent when creating a gallery wall – the walls you wish to decorate are your playing ground to perfectly showcase all your favorite things and tell the story of who you are!  A great way to start is to decide on your theme and build around that concept. Whether its printed art with beautiful custom created photo frames done based on your requirements at ARTPLUS, printed maps with a vintage feel, keepsakes and heirlooms or other trinkets- we can even frame your wedding dress or your baby's first shoes! All of these have a place on your gallery wall. We have put together a few ideas but, in all honesty, the creative freedom is all yours! Need help creating your gallery wall? Let our art consultants do it for you!
Hanging plates printed at ARTPLUS, acrylic disks, little printed mirrors, canvas big or small, posters or prints on wood- allows for a fun and creative way to introduce color, pattern, and texture to your design scheme, there is no limit to how creative you can go- with all the printing options at ARTPLUS, you can even print wall tiles and fabrics to add between your masterpiece! If you want an interesting backdrop for your gallery wall, we can print your custom designed wallpaper and install it for you.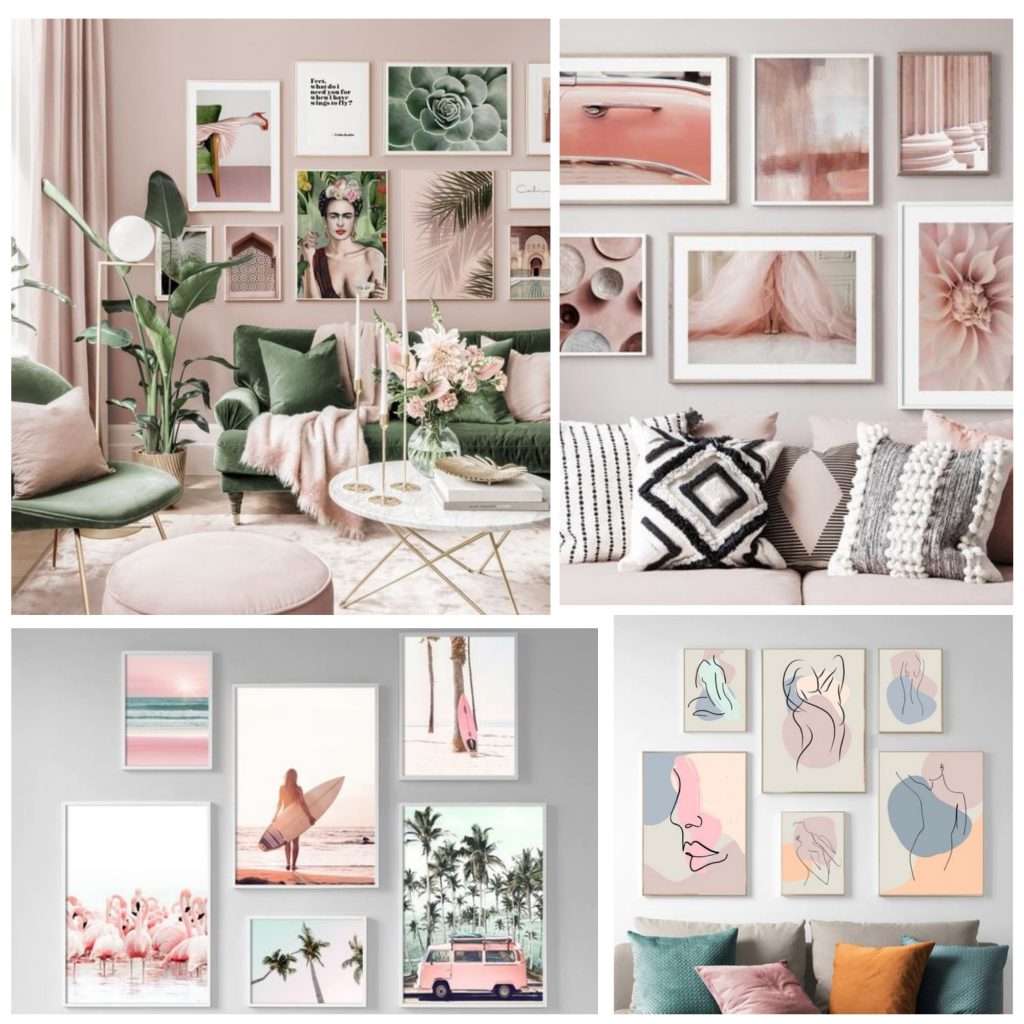 MIX AND MATCH ARTWORKS. ITEMS AND TEXTURES
Let ARTPLUS print your favorite artworks and family photos, frame your favorite postcards or items, group them together in a gallery wall creating an authentic and unique display.
If you're into everything being symmetrical, measure your items carefully before hanging them to get an even spacing.  Need a freer flowing approach? Just arrange your pieces on the floor before picking up your hammer. Does the idea of hammering away make you nervous? Let our installation team create your gallery wall for you, based on direction from our art consultants.
MIRROR MIRROR ON THE WALL
A simple but effective interior design hack for making a small room look bigger is to use mirrors as art. At ARTPLUS we can print your favorite art directly onto mirrors, with a sturdy hanging system conveniently added. Mirrors reflect light around a room which gives the impression of space. Hang a single large mirror in the shape of your choice as a statement piece or group several different shaped designs together for extra effect.
FROM WHITE TO BRIGHT
Creating a bright and cheery gallery wall is a great way to inject color into your room design as it is the easiest way to break up an all-white color scheme. It adds depth and interest to your space. Think of your all white room as the perfect "blank canvas" to display your art on.
NEUTRAL LUXE
If you want to create a gallery wall that has a more cohesive look, pick a clear color scheme and stick to it with adding artworks and elements in the same color tones. The look of a neutral gallery wall is simple but striking! There are many different textures and materials that can be printed at ARTPLUS to incorporate into your wall design to add interest. A neutral gallery wall works best in a smaller space such as a hallway or a staircase, as the limited, neutral color tones won't overwhelm the space you're decorating.
KEEP IT CLEAN
Use simple frames in the same color to create a clean and cohesive look- this creates a sense of unity even if your art pieces are vastly different from each other. This is a perfect approach in a bohemian styled bedroom, lounge or corridor setting- add some botanical pictures or abstract scenes, organic geometric art elements, real plants and textured items to create depth and interest.
MATCHY-MATCHY
Picking artwork with a common color theme will create a pulled-together, carefully curated and consistent look. Add color, print or pattern elements from your artworks into the décor setting in your space, such as scatter cushions printed at ARTPLUS or even a sofa covered in faux leather printed by us!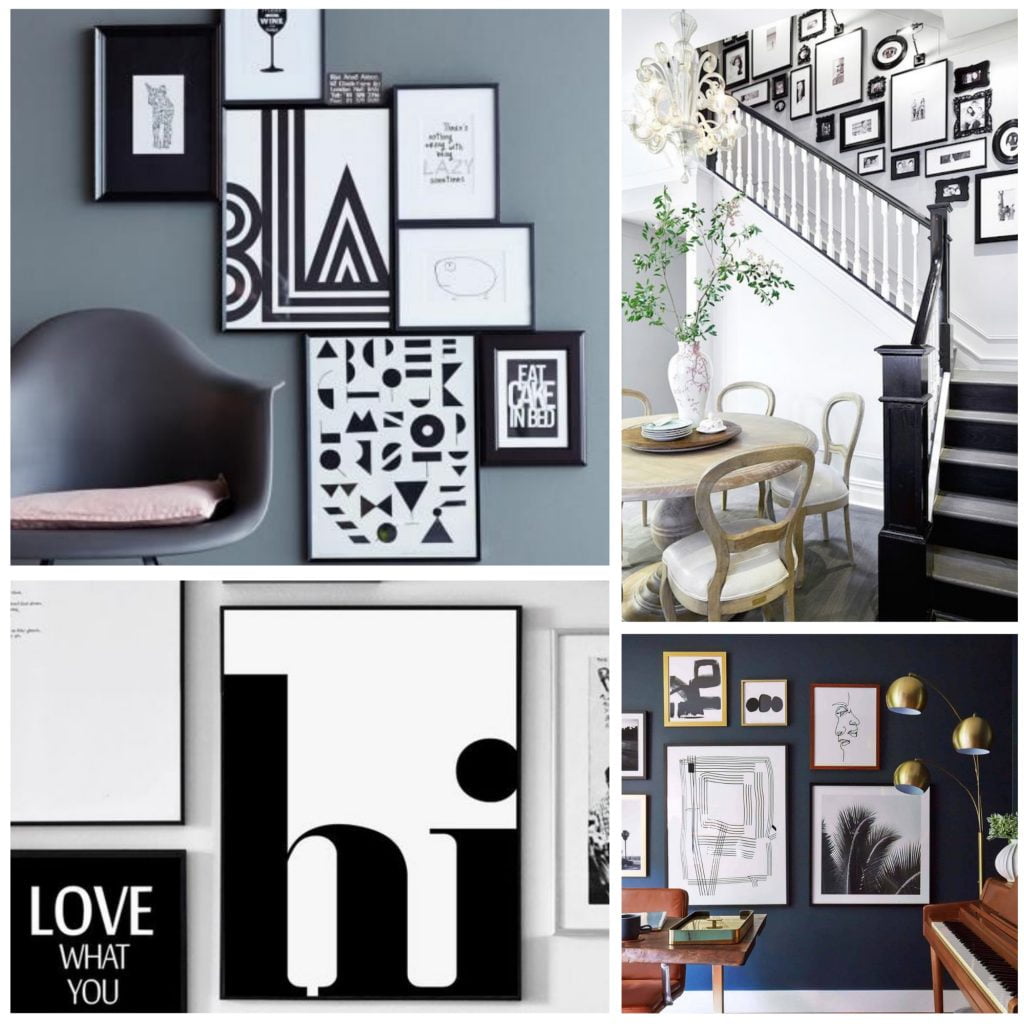 DISPLAY YOUR PHOTOS AND RECALL THOSE HAPPY MEMORIES
While arranging your mix of art and prints, remember to add your personal touch with photos that evoke happy memories. Display your favorite family moments captured on camera, holiday photos and even your favorite Instagram photos. For a completely unique gallery wall, print all your favorite elements into wall tiles!  With our easy hanging system attached to wall tiles, its easy and affordable to print out your favorite photos into various ceramic wall tile sizes. The hanging system allows you to rearrange frames around as you please, with no stress of damaging walls.
GET COLLAGING
Walls covered with appealing aesthetic, mood board type images have taken over social media. TikTok influencers create beautiful collages centered around themes you wish to evoke in the space you're decorating. At ARTPLUS we can take your favorite images and create a wallpaper collage. We offer wallpaper installation services within UAE.  Collect your photos, magazine images, posters, postcards or images found online. We will scan the images in high resolution and create your perfectly unique wallpaper.
RAISE YOUR TEXTURE GAME ON-POINT
A gallery wall doesn't have to be limited to paintings and art prints only. It's a collection of pieces that combine together cohesively. Sprinkle in different mediums like textiles printed at ARTPLUS or mixed media work for textures, interest, and dimensional interest.
TOP TO BOTTOM GALLERY WALL
While many gallery walls tend to start at a particular height such as above a credenza, or a bed, go bold with a dedicated entire wall for your gallery wall- a gallery wall that spreads itself from floor to ceiling for real design impact.  Start by trying the idea on a smaller wall, like on a staircase or entry hallway wall. Feeling bold? Don't hold back- go full force and cover an empty wall from top to bottom with carefully curated pieces framed in striking custom-made frames including framing objects that are important to you.
Ultimately, creating a gallery wall is the perfect way to showcase your unique art collection. Finding the perfect layout may seem daunting but as we mentioned before with all the suggestions mentioned- make it your own and use your own creative flare. There aren't many rules to follow so you truly are the one in charge here. With these easy steps, hanging your own gallery is simple, not stressful at all. If you're still overwhelmed by the idea, let our art consultants design your wall for you and let our technical team hang your artworks using the technical guide created by us along with guidance from you.
LETS GET HANGING
Follow our easy guide for selecting, exhibiting and organizing your gallery wall.
REQUIREMENTS
Various Artworks and objects printed and framed at ARTPLUS
A Pencil
Kraft paper
Scissors or a crafts knife
Painters tape
Hammer
Nails or picture hangers
Ruler or measuring tape
Level
Double-sided adhesive tape
Step 1: Collect all your artworks

Start by collecting all your artworks. Based on your theme, select your items for your unique gallery wall. Decide if you're creating a gallery wall of family photos, photos and family quotes, maybe add some framed artworks created by your children or items such as your child's first toy framed—it's really completely up to you.

Step 2: Test is best

The most complex part of creating your gallery wall is deciding where to hang your artworks and how to mix objects into the design scheme. Before you start hammering away, create your gallery wall layout by tracing around each piece of art on kraft paper, then cut each piece out. On each piece of cut paper, mark the picture's placement. This step is crucial as it will help you establish the hanging pattern. Use painters' tape to hang each cutout shape representing your artwork onto your wall to get a feel for the layout.
When deciding on your gallery wall layout, start by hanging the largest item at eye-level. Remember, the height at which you hang art also depends on the height of your ceilings and your furniture along with the décor elements in the space. If you have high ceilings, opt for large-scale art that lends more to the height of your wall. If you are hanging a gallery wall above a bed or tall furniture elements, you'll need to adjust the height of your art accordingly. Floor-to-ceiling gallery walls can make an impressive statement and are our all-time favorite. Once you've decided on placement and hanging height for your art, rearrange the cutout kraft paper pieces representing your pictures until you find a layout you love.

Step 3: keep that distance

A great wall gallery keeps a sense of uniformity by maintaining an equal distance when hanging elements. Use a ruler or measuring tape to guide your placement. Arrange larger art with more space between frames, and group smaller art closer together. Give the room space to breathe by spacing your artworks well. If you're using irregularly shaped art within your gallery wall, you can skip this step and easily eye the layout based on your choice.

Step 4: Balancing act

Forget symmetry (unless that's your aim), there should however be some touches of balance. Mix larger wall art pieces with a few smaller art pieces, or create balance with simpler art pieces framed and placed between very detailed, complex pieces. If you have a combination of themes, colors, and textures in your gallery wall, try to spread the art styles to create balance.

Step 5: Start in the middle

If you're hanging your gallery wall above furniture, place a piece of painter's tape on the wall to represent the top of the furniture, then move the furniture out of the way making it easier for you to work. If you're hanging oversized or heavy pieces, such as glass, printed wood or printed mirrors or large framed art, our artworks comes with the best hanging system to ensure an easy and safe application. When you're ready to start hanging the picture frame layout, use a hammer to secure a nail or picture hanger through your marked placement on the kraft paper templates you created. Remove the paper and tape, then place your first piece of wall art decor on the hanging system. Check that your artworks are level before proceeding. Repeat with the rest of your artwork, starting with your largest pieces and finishing with the smallest artwork strategically placed between for visual impact.