Mirror Printing | Print on bronze Mirror
ALL YOUR Mirror REQUIREMENTS FULFILLED IN ONE PLACE
Mirrors are important design elements in many interior aesthetics. They uplift the architecture by creating a unique look and enhancing the overall decoration of the space. Mirrors are decorative instruments to play with design language in cafes, restaurants, malls, spas, and residential units.
The bronze mirrors are very effective in replicating the design patterns. Moreover, they give designers a bigger room to play with, creating different light and design effects. On the other hand, they provide a cleaner and more modern look to your restrooms, gyms, indoor games, and dance facilities.
Mirror Printing on bronze increases the possibility of providing an immersive experience to anyone visiting the UAE. It is done through UV printing. A design or custom image is applied to the bronze mirror using UV printing. ARTPLUS.com is the best bronze mirror printing service.  Along with printing services, we have a wide range of printed mirrors from which you can select. Or order your custom Bronze Mirror Print from us.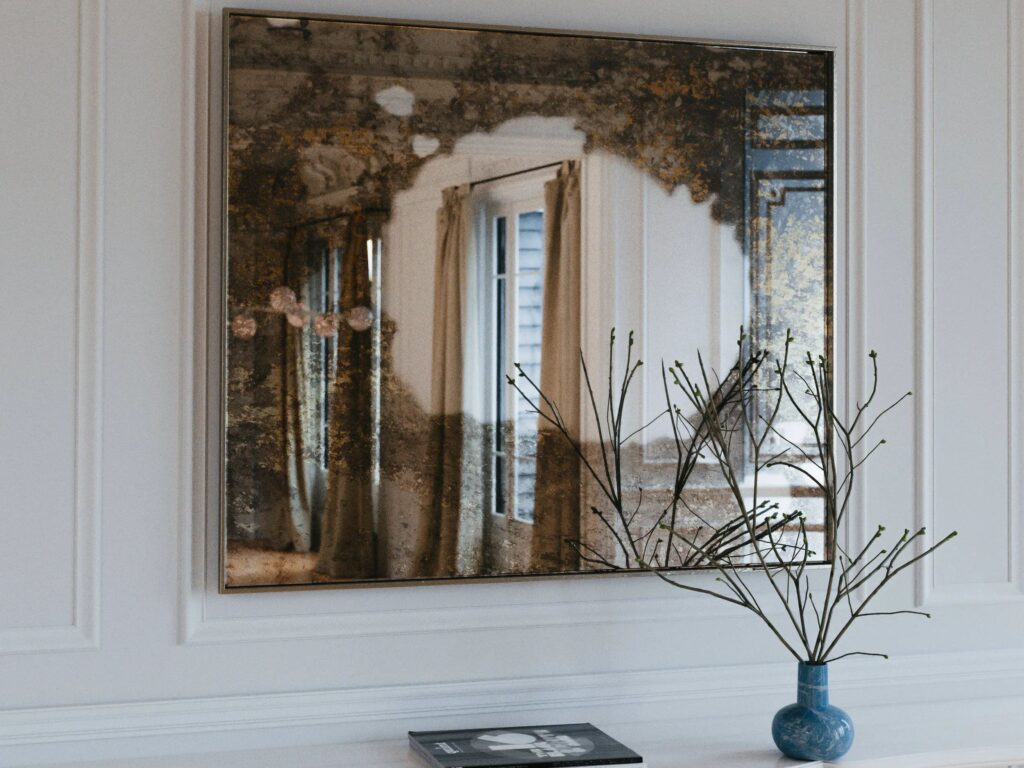 Mosaic Bronze Mirror Printing
Mosaics are the design preference of many interior designers and architects. They intelligently infuse them with other elements and create a new vibe for restaurants, spas, and saloons. When light reflects on the mosaic, each little piece of the mirror reflects at a different angle, making the whole experience more enjoyable. 
We also offer a Mosaic bronze Mirror Printing Service. If you already have your mosaic in place, we can print an image or design of your liking on it. If not that, you can select from an ART+ exclusive range at very low rates. Please visit us or contact our design team to get an exciting offer.
Printed Compact 

bronze Mirrors

If you are searching for Printed Compact bronze Mirrors for your residential or living spaces. You can check our Compact Printed bronze Mirror Range that best fits your cozy spaces and residential needs. For Custom Prints on the Mirror, you can avail of our service, with short delivery time at minimal rates.
How to Print bronze Mirror Image
Having your bronze Print Mirror Image is a delight every time you look into the mirror. But, fewer people know that they can also put their custom prints, images, patterns, or designs on bronze mirrors. The process is not simple and can't be done at home.
For people in Dubai or UAE, ART+ is the place to get your bronze Mirror Image Printing Job done at affordable rates. We use quality imaging and the latest technology to bring out the clear crystal results. The printing process involves the exact measurements and applying an image directly on the bronze mirror using UV printing.
Wall Bronze Mirror printing can be in singular color or mix many colors, depending on your design requirements. Funky colors complement living spaces. While plain or singular colors are good for restroom and makeup rooms. If you are struggling with design choices or confused about what suits your space best, book a free consultation call. Our designers are happy to help and further collaborate with you to provide the Best Printed Mirror on bronze.